If you have a growing concern about the cost of providing healthcare for your family, you are not alone.
Many families are paying more every year while experiencing significant declines in value and satisfaction when they do choose to seek care.
Direct Primary Care to the rescue.  What is Direct Primary Care (DPC)?  It's a relationship-based primary care practice that does not participate with insurance.  At first glance, many people assume DPC is more expensive than using their insurance for primary care services.  But in many (perhaps most) cases, they would be wrong.
Many people don't realize the high number of support staff they encounter in a conventional doctor's office is because of insurance:
Front desk and checkout people to gather information, confirm insurance benefits and demographic data to send with claims
Clinical staff to gather medical data needed to bill insurance and allow physicians to move faster and see more patients
Billers to file claims, answer patients' questions, send bills to patients, and make sure the practice gets paid for services rendered
Administrators to deal with insurance contracts and make sure the practice is in compliance with those contracts
In a conventional medical practice, much of what you see (and what you don't see) is designed to make sure the practice gets paid through insurance claims.  Even when people have copays and deductibles they have to meet before their insurance kicks in and pays for their visits, the claims still have to go through the same process.  
DPC practices don't participate with insurance, so the cost of providing care is much less, and the tasks in DPC practices are streamlined and primarily completed by the provider.  In most cases, families who choose DPC pay less out of pocket for outpatient care, and satisfaction is high.
Here is what you can expect from a high quality DPC practice.
True Relationship-Based Care
The patient-provider relationship is foundational to the DPC.  From the moment you walk in the door to the moment you leave, all or most of your interactions will be with the provider, and appointment times are generally longer.  DPC providers have fewer patients in their practices, often 500 compared with 3000, and thus have more time to spend with each patient. Most are also available after-hours for their patients.  This increased access to the actual provider (not a nurse triage service or unknown on-call doctor) builds trust and prevents costly urgent care and ER visits.
Cost Transparency and Ease of Financial Transactions
DPC practices provide ongoing care in unlimited amounts for a very reasonable monthly fee, usually $30-80 per adult and much less for children. That's it.  No wondering about what is or is not covered, no wondering if you're going to get a bill a few months later, no wondering how much services and tests cost. Many DPC practices also include common labs and medications in the monthly fee.  Even when they don't, or if you need something that is not included, the DPC has negotiated discounts on labs and medications on your behalf, so the cost to you is much less than in the conventional system, sometimes 5-10 times less. 
More Flexibility and Availability
In a smaller medical practice with fewer patients, where the financial transactions are not affected by the third party payer fee-for-service model, there is more flexibility with patient-provider interactions.  DPC providers have been handling many appointments and questions virtually for a long time. Also, DPC providers are able to listen to the health values of their patients and suggest treatment plans that are in line with those values. Convenience and customer service matter, and providers and patients are freer to pursue a very personalized experience.
You Still Need Insurance
DPC is outpatient primary care.  Because there is always a chance of accident, injury, or serious illness requiring hospitalization, it is always recommended that you seek an affordable catastrophic or high deductible plan or cost sharing plan to cover such needs if they should occur.  A good analogy is how auto insurance is handled. You purchase auto insurance for when unexpected things happen. You don't purchase auto insurance to cover your gas, oil changes, and other routine maintenance, or to fix minor wear-and-tear problems. If you did, the price of auto insurance would be exorbitant and dealing with the red tape would be overwhelming.  Much better to take care of your day-to-day stuff yourself and let your insurance kick in when something really bad happens.
The Federal Government is Working to Make DPC More Accessible
The PCEA (Primary Care Enhancement Act) is currently on the table at the federal level, which will bring the IRS into the same thinking as most states regarding DPC.  Currently, many states (including Michigan) recognize DPCs as primary care practices and not insurance. The federal government does, too. But the IRS still has not changed their code to allow HSA and other tax-deferred health funds to be used for monthly DPC fees, but it's in the works.  Stay tuned. If you have such a health fund, talk to your accountant or tax advisor about exactly how you can and cannot use your funds. Learn more about regulation in your state here.
DPC Meets National Healthcare Goals
Nationwide, there are widely accepted objectives to enhance patient experience, improve population health, reduce costs, and address provider burnout.  DPC addresses all of these goals.  
DPC is an emerging and increasingly popular model for primary healthcare delivery that addresses the problems inherent in the current healthcare system.  If you want to learn more about our unique DPC medical and wellness practice in Northwest Michigan, go here.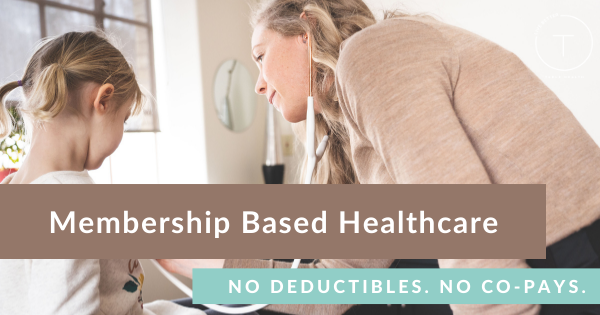 References
DPC Frontier – regulation and general info about DPC
Table Health DPC